Project area A: Synthesis

Project A1: Violacein as template for chemical diversification and their biological evaluation

Prof. Stefan Schulz, TU Braunschweig, Institut für Organische Chemie

Web address: http://www.oc.tu-bs.de/schulz/index_en.html

Violacein is a bacterial pigment produced by bacteria from tryptophane. Several important biological activities have been reported, including antibiotic, antiviral, and antitumor activities. Biotechnological optimization by the cooperating group of Prof. Wittmann enabled the production of larger amounts. This product will be the starting material for chemical derivatization to produce derivatives with enhanced properties. Furthermore, pathway modification by the Wittmann group may lead to block mutants that produce derivatives also available for modification. Further cooperation with other groups will pin down detailed activities in several biological systems.

Required qualification: Master in Chemistry

---
Project A2: Chemoenzymatic synthesis of an antineoplastic polyketide natural product

Dr. Frank Hahn, Leibniz University Hannover, Institute of Organic Chemistry

Web address: http://www.oci.uni-hannover.de/de/arbeitskreise/hahn/index.php

This project aims to combine the advantages of enzyme catalysis and organic synthesis in order to achieve better access to pharmaceutically relevant natural products. The student will develop a chemo-enzymatic total synthesis of a polyketide natural product. He/She will apply and optimize enzymes from polyketide biosynthesis for a biocatalytic application in crucial synthetic steps. The application of these enzymes in synthetic key steps will drastically simplify the chemical parts of the total synthesis and enable the production of previously inaccessible derivatives. Methodically, the project comprises organic synthesis as well as cloning, expression and engineering of enzymes. Interested candidates should have a solid background in Organic Chemistry and an interest in learning methods from enzymology and basic molecular biology.

Required qualification: Master in Chemistry or Life Science
---
Project A3: Combined mutasynthetic / total synthetic approaches to Noricumazol libraries for improved anti-HCV properties

Prof. Andreas Kirschning, Leibniz University Hannover, Institute of Organic Chemistry and Center of Biomolecular Drug Research (BMWZ)

Web address: http://www.akoci.uni-hannover.de/AK_Kirschning/index.htm

The Noricumazols are secondary metabolites, recently isolated from myxobacteria, whose structures were established by total synthesis. It was discovered that Noricumazol A exhibits strong ion channel inhibitory activity and it very effectively inhibits growth of the hepatitis C virus thus being a lead candidate for further biological evaluation. In cooperation with the Müller group, who will establish and utilize several blocked mutants, mutasynthetic and total synthetic strategies will be established to create libraries of Noricumazol A. Biological evaluation conducted at TWINCORE (Pietschmann group) in Hannover will be directed towards ion channels such as the viral P7 channel as well as on HCV associated with host cells.

Required qualification: Master in Chemistry
---
Project A4: Silphinenes and Penifulvins - A Biogenetic Realtionship?

Dr. Tanja Gaich, Leibniz University Hannover, Institute of Organic Chemistry

Web address: http://www.gaich-lab.uni-hannover.de

The project aims to synthesize deuterium labeled 12-hydroxy silphinenic acid 1, feed it to its producer Penicillium griseovulvum and investigate whether the deuterium containing 1 is transformed to penifulvin B 2. Penifulvin B 2 as well as silphinenic acid 1, were isolated from Penicillium griseofulvum indicating a biogenetic relationship. A synthesis to the carbon skeleton of 2 was already taken out in our laboratories following a biomimetic route.

Required qualification: Master in Chemistry



---
Project A5: Synthesis and biological evaluation of chondrochloren

Prof. Markus Kalesse, Leibniz Universität Hannover, Institut für Organische Chemie

Web address: http://www.kalesse.uni-hannover.de/

The aim of this project is to provide improved natural products that interfere with bio-film formation. Our initial investigations identified the secondary metabolite chondrochloren as promising candidate to stop bio-film formation and to act as antibiotic against gram-positive bacteria. This project will provide synthetic access to this particular natural product and most importantly, to derivatives and analogs to identify its structure-activity relationship. This project collaborates with the project of Prof. Irene Wagner-Döbler (Project C2), which will provide screens and biological expertise to test these derivatives and analogs. Besides generating analogs based on total synthesis, we will use the very natural product, provided by fermentation as starting point to generate derivatives. Additionally, this project aims at using a combined synthetic-biosynthetic approach. By synthesis, the corresponding acid could be provided and subsequently transformed to generate different amide derivatives.

Required qualification: Master in Chemistry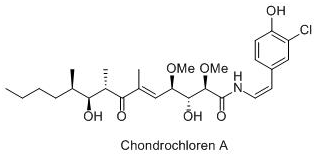 ---
Project A6: Photoactivatable Building Blocks for Microbial Biosynthesis

Prof. Thomas Lindel, TU Braunschweig, Institut für Organische Chemie

Web address: http://www.oc.tu-bs.de/lindel

Natural products are special, because their structures have evolved under evolutionary pressure. However, the biological functions and targets of most natural products still remain unknown, in particular on the cellular or molecular level. The situation could be improved if photoactivatable analogs of natural products would be available in greater structural variety than presently. On irradiation inside the cell, noncovalent natural product-target complexes would be rendered covalent after bioorthogonal irradiation and, thus, become analyzable by advanced mass spectrometry. A key problem concerns the introduction of suitable photoactivatable functional groups, which should be as small as possible in order to minimize structural alteration of the candidate natural product. The research project uniquely combines synthetic chemistry and microbial biotechnology (cooperation with B4 - Dr. Dickschat) aiming at the incorporation of diazirine moieties into structurally complex natural products. In particular, it will be investigated to which extent terpene cyclases are capable of converting diazirine-containing geraniol and farnesol analogs to cyclic terpenes very difficult to access otherwise. For non-ribosomal peptide synthesis, new photo amino acids will be synthesized and investigated as possible substrates of the microbial biosynthetic machinery.

Required qualification: Master in Chemistry
---
Project A7: Unusual fatty acids as antimicrobial agents

Prof. Stefan Schulz, TU Braunschweig, Institut für Organische Chemie

Web address: http://www.oc.tu-bs.de/schulz/index_en.html

Unusual fatty acids have a high potential for biological activity because they can interfere with common processes in living organisms. Of special interest are compounds like crepenynic acid with unusal structural elements, in this case a triple bond. In the group of Prof. Müller several new unusual fatty acids have been found with interesting biological activity. In the project several of these acids and their analogs will be synthesized as well as their activity evaluated. The goal is to identify structural motifs responsible for the observed effects. Furthermore, the biosynthesis of these compounds will be analyzed together with the Müller group and the necessary labeled precursors will be synthesized.

Required qualification: Master in Chemistry